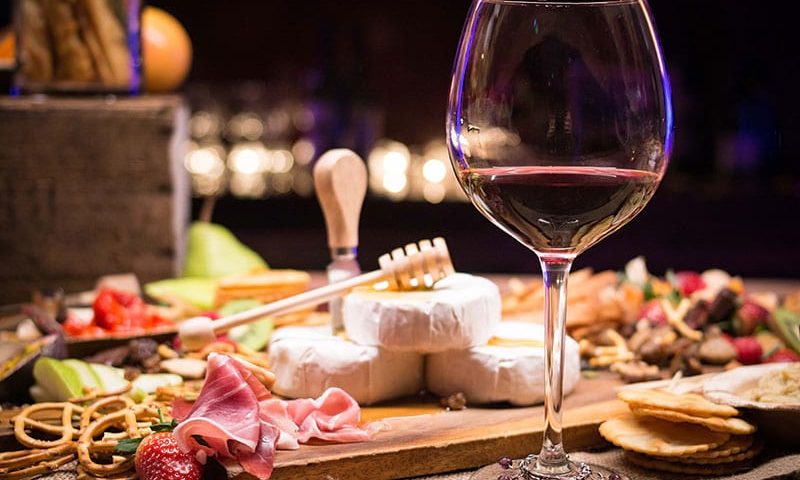 The city of Rome is more famous for the food binges – those that stretch your stomach to the limit – than for the so-called apericena‒ a richer aperitivo that romans use to replace a full dinner. Having said that you don't have to deny tradition to keep up with the new trends. And romans know very well how to adjust.
So there's a good list of new spots that know how to impress. In this small tour, we will go over what the roman nightlife has to offer for the apericena.
The apericena tour in Rome
You dive in history with a nice walk in the historical centre of Rome, but then reality sets in as you suddently get a yearning for something yummy. So why not close your eyes and let your imagination fly you straight to New York city in a nice chic industrial loft?
No problem, your daydream will come true at Salotto42 right in front of Adriano's temple. Sipping on an excellent cocktail, or a chalice of wine, or a bottle of beer, you can also satisfy your hunger with a great variety of finger food and buffet dishes. All the while listening to the music playing in the background outside the place. Salotto 42 is in piazza di Pietra, 42.
The "carciofi alla giudia" that we tried at the Ghetto were stunning but you may end up there a bit too early for dinner. Where do you go then? At the Dispensa, of course. in via Paganica 8. There you can try organic, vegetarian, vegan and gluten free foods and not only those. The menu features also "the aperitivo in a jar". That's actually jars with preserves with bread on the side and accompanied by an excellent wine.
In viale Aventino the aperitivo is gourmet and you will have it right on the beautiful liberty style balcony-garden. The fusion between cocktail and food takes you by hand along a culinary journey that will arouse your taste buds. An example? The Antonio and Cleopatra: olive flavoured gin infusion, sweet wine, tomato and tradition, syrup of egyptian beer, pin nut bitter, hemp and lemon.
The chef came up with the idea of a few funky dishes to accompany the wide range of cocktail and drinks such as spiced fava beans and chickpeas, sweet paprika popcorn, steamed sandwiches with salmon, soy sauce, algae, and sour cream, hot dog with octopus, potatoes and 'nduja, oysters and much more. Where? A The Corner, viale Aventino, 21.
In the Flaminio neighborhood (via Flaminia, 226) between the Maxxi and the Auditorium there is an old renovated stand. At the Treebar – with its scandinavian style interior design – the ingredients are very high quality and they mostly come from the Treefarm, a farm owned by the group.
From Tuesday to Sunday the drinks come with a selection of cooked products baked in the wooden oven, Every Monday there's free buffet.
San Lorenzo is a neighborhood well known for his vivid nightlife. So if you wish to go for a nice aperitivo then you can't miss out on Mozzico (via dei Volsci, 80). High quality local brewery's beers, wine and Spritz accompany several delicacies such as the "mozzichi", fried pastas with the typical roman ingredients such as "cacio e pepe", amatriciana, ricotta and anchovies, and several other kinds.
The three formulas meet pretty much all tastes and needs. From vegetarian to anything goes! So fantasy runs wild!
Magnebevo e sto al Pigneto, the name says it all. The formula here is a drink along with a cutting board of mix of seasonal products made fresh every day. A can't miss are the sycamore chips, and several other delicious dishes with vegetarian options. The beer is rigorously local brewery beer. Where? In via Macerata, 3.
If you're into Spritz and wish to have an excellent one then swing by Ombralonga in Centocelle (via delle Palme, 76/A). Five Spritz variations, wine and other drinks accompany rich cutting boards of coldcuts and cheeses, also in the veggie and vegan version.
And to get a virtual taste of Veneto you can try the so-caled "cicchetti", small bites stuffed with pulled horsemeat, radicchio and grana cheese. The aperitivo is served!
Rome offers also an ethnic aperitivo, a japanese fusion aperitivo and a peruvian one. At the Coropuna (via di Pietralata, 149/B) scented exotic cocktails, wine and other drinks accompany original sushi rolls: fried, baked, raw, some with more of a japanese flavour to it, other with a peruvian fruit punch. Your taste buds will go nuts!
At Garbatella ‒ a neighborhood mostly known for traditional roman trattorias ‒ there is an old bar that took the place of an old dairy from the 20's: Latteria Garbatella. The place started as a bistrot specialized in fish and meat tartare and carpaccio but when choosing your cocktail for the aperitivo you can ask the barman for recommendations. For sure they can come up with the right cocktail for your taste and mood. The menu that accompanies the drinks features mini dishes of moroccoan cous cous, panzanelle, veggies in "pinzimonio", cutting boards of coldcuts and cheeses of Lazio. So if you want to feel at home go to piazza Geremia Bonomelli 9.
The Ostiense neighborhood also owns its share of places for aperitivo. So why not the Altrove? Without going somewhere far in Via Benzoni 34 we find this spot that started as a company that developed the idea of a social and cultural integration. Nowadays it features a mediterranean and cross-cultural menu , with fresh new and original recipes that mix the most diverse flavours. So trust our judgment and become citizen of the world.
At EUR ‒ another neighborhood well known for its lively nightlife ‒ there is a place in Viale Europa 90 specialized in the famous roman maritozzo. Both the salty and sweet version. So at Maritozzo Rosso you find several version of this roman specialty e during the "aperitozzo" time you can try mini salty maritozzos accompanied by a chalice of wine, a beer or some other drink of your choosing. If you're into maritozzo then you can try a cutting board of cheeses and jams with Pumpernickel toasts.
So in Rome it's never too early – or too late – to have a good bite, wherever you are.