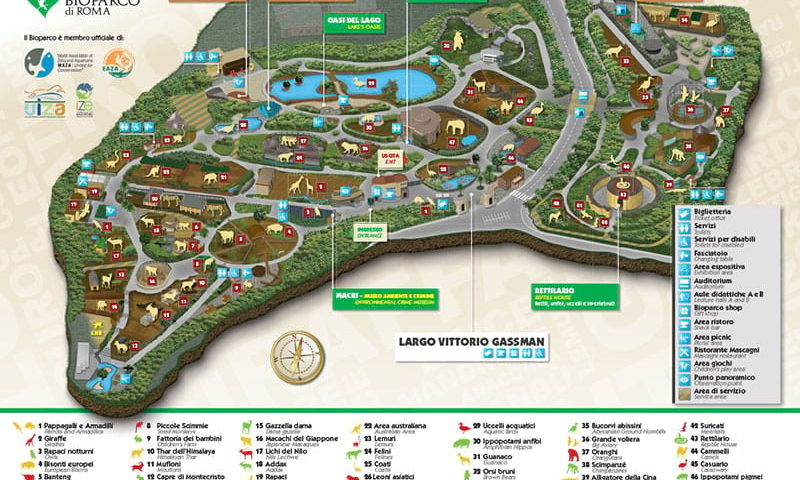 Rome's zoo is one of the oldest and most enchanting zoos in Europe. It opened its gates on January 5th, 1911 in the north part of Villa Borghese within the botanical garden.
History and evolution of the zoo
At first the zoo's goal was merely recreational. Visitors would come to spend a fun day admiring rare animal species. Over the years it turned into a park destined to the preservation of species at risk of extinction. This goal was carried forward by the partnership between the zoo itself and many organizations.
Its 17 hectares hold mammals, birds, rectiles and amphibious from the five continents. Overall the park features about 200 species of animals that live in a greenery rich of both mediterranean and exotic specimens. The botanical collection that inhabits the zoo is there not only with the purpose of embellishing the garden and the trails that wind inside of it. The goal of the botanical collection is also to recreate the natural habitats and better the life conditions of the animals living there.
So besides admiring the several bloomings of the different times of the year, you can also find some areas where they have planted the same flora of the original environment of the animals.
The zoo though is not only a place for leisure. It also has a vital educational function for audience of all age ranges. As a matter of fact visitors can choose between many activities that are both educational and recreational. These activities are meant to increase your knowledge, make new discoveries, and get constant inputs on all things related to the zoo and its preservation.
The zoo can be visited by foot or on board of the Bioparco Express to enjoy a nice panoramic ride. The ride goes through the main buildings of the zoo. That is: the resort of the chimpanzees, the house of the giraffes, the valley of the bears, the forest of the wolves, the big aviary and the reptilarium.
The zoo is open all year long, 7 days a week (except for December 25th)
Opening hours
January 1st – March 23rd: 9.30 am -5.00 pm
March 24th- October 28th: 9.30 am-6:00 pm
October 29th-December 31st: 9.30 am -5.00 pm
Extended Opening hours
March 24th-September 30th: saturday, sunday and holidays 9.30 am -7.00 pm
Beware that the last entrance is set 60 minutes prior to closing.
Ticket prices
Adults: € 16,00
Children over 1 meter and up to 10 years of age: € 13,00
Over 65: € 13,00 (every day except Wednesday when the ticket is € 6,00)
Groups (minimum 15 paying persons): € 13,00
Handicapped visitors: € 10,00
Bioparco express: € 1,50
For children under 1 meter and helpers of handicapped people the entrance is free.
Website: www.bioparco.it
[yasr_overall_rating]