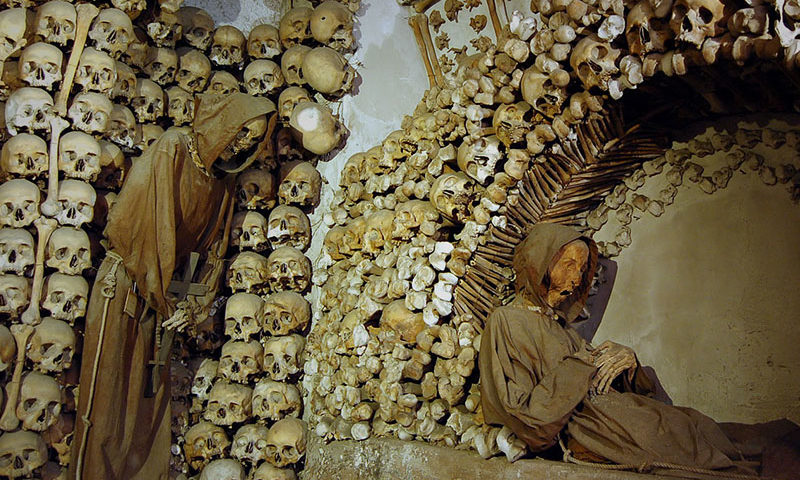 What you are is what we were; what we are is what you will be
This motto welcomes you in a place that at first glance may seem gloomy and grim but in actuality it embodies perfectly Rome's dark side hidden in the undergrounds of the eternal city. This is the Crypt of the Capuchins in Rome.
Shinbones, Thigh-bones, skulls, phalanxes, tailbones is all you see once you come out of the long hallway. In fact down the hallway are located the distinctive chapels (five on each side). Each chapel is decorated uniquely based primarily on a type of bone.
These are not fake bones! The bones that make up the structure, the architecture and the decoration they all belonged long ago to about 4000 men among Capuchins and poor people. These people were buried up until 1870 and their bones were collected from the graveyard by the San Bonaventura monastery near the Quirinale.
Symbolism and spirituality in the Crypt of the Capuchins
It's clear that inside the crypt nothing is accidental or result of imagination. First off, the message behind the "building material" and the way the bones are set up into decorative patterns is indeed very intentional.
And so we find several symbols linked to death as a positive "experience". The christian meaning of death which revolves around the idea that death is basically human life that ends its journey on the earth and approaches resurrection. The body is considered a mere shell of the soul and can be utilized for other purposes once the soul leaves the body.
And so right before your eyes several objects take shape: hourglasses, butterflies, clocks, scales, a sickle held by a skeleton. And between the walls made of bones are located recesses containing mummified corpses of monks wearing the typical sagum.
There are many speculations out there circling around this tomb. One says that Pope Urbano VIII – who ordered its construction near Palazzo Barberini to honor his brother Antonio, member of the order of Capuchins ‒ ordered that the small chapels had to be paved with earth coming from the Holy Land. He also ordered that a plate with the phrase Hic jacet pulvis, cinis et nihil ("Here lies dust, ashes and nothing else) would be placed along the hallway.
The complex that houses the Crypt of the Capuchins also houses the Church of Santa Maria della Concezione (also known as Nostra Signora della Concezione dei Cappuccini), the monastery ‒ residence of the monks from 1631 ‒ and a museum. The museum features several art pieces as well as holy objectes from all over the world. The museum is a testimony to the spirituality and the history of this order with a strong emphasis on the life of the Capuchin saints.
The Crypt of the Capuchins in Rome surely deserves a visit; a must see in your Rome trip. There is an appropriate dress code to visit the Crypt.
Opening times
Open from Monday to sunday: 9.00 am-7:00 pm (the ticket booth closes 30 minutes prior to closing time)
Closing: Easter sunday, December 25th, January 1st
Early closing: November 2nd at 3 pm; December 24th and December 31st at 2.30 pm
Prices
Regular: € 8,50
Discounted (under 18 and over 65): € 5,00
Discounted to groups (min. 10 people): € 6,00
Services
English, italian, and spanish Audioguide is available upon charge.
Guided tour in english, italian or spanish must be booked at least 15 days in advance
Website: www.cappucciniviaveneto.it
[yasr_overall_rating]